New Vegan Queso Is Going to Blow the World Away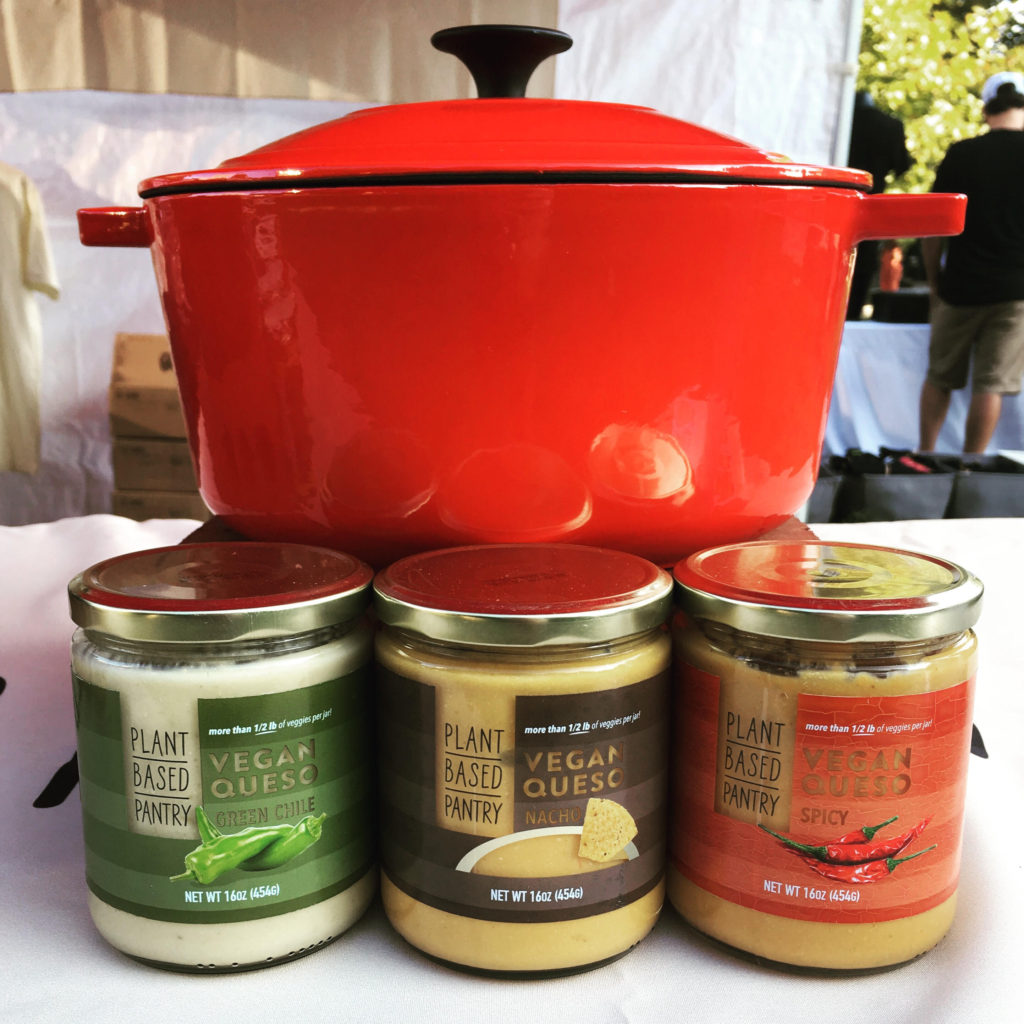 Queso — which is essentially mouthwatering melted cheese — is everything. It's a culinary staple, perfect for pouring on nachos, using as pretzel dip, and basically consuming by the gallon.
Vegan queso, however, is hard to find. Not many companies offer options for this common cheesy treat.
But plant-based cheese aficionados have something to be stoked about: Vegan Queso by Plant Based Pantry out of Asheville, North Carolina, is about to change the game.
The company's queso, which comes in three flavors, is a groundbreaking new product that founders Amy and Matt Herren are hoping will make its way into restaurants and supermarkets nationwide.
Amy graduated from the Culinary Institute of America, and has a Certificate in Plant-Based Nutrition from the T. Colin Campbell program through Cornell University. Both she and Matt have extensive culinary experience.
Amy has been working on the queso recipe for years. "I knew there was a need for convenient, nutritionally-dense products that made adopting a vegan/plant-based lifestyle easy," says Amy. "And the 'easy, convenient' options available aren't always nutritionally dense or good for you! So, I set out to create something that could be delicious, convenient, and contain real food."
The queso comes in three flavors: Spicy, Green Chili, and Nacho. Each is available on Amazon for $6.29 a pop, with brick-and-mortar stores to follow.
Unlike some other convenience foods, the ingredients in these vegan quesos are super healthy. WIN! Each jar actually contains  more than a half a pound of veggies.
"It's a blend of carrots, potatoes, onions, and other spices," says Amy. "Raw cashew and coconut milk provide the mouthfeel. Basically, everything gets cooked and blended and then we add chiles, tomato, or other components based on the recipe. In particular, we work with a co-packer because we make such large batches that includes our retail jars and one gallon pouches for foodservice accounts and venues."
Long-term, the couple is focused on getting into food service in a major way — so you'll be able to score vegan queso at your fave eatery.
"I want to see vegan options everywhere!" Amy says of the future. "We as a company really focus on working with schools, hospitals, restaurants, arenas, and other large scale venues to have truly delicious and nutritious options anywhere we go. And Matt and I knew from our experience in working in food service–along with our business partner–that chefs who are not Vegan struggle to provide options in their cafes and restaurants because it can be time consuming and labor-intensive to create delicious, nutrient dense menu items."
The future is vegan, and this crowd-pleasing queso will be leading the way.
Follow Some Vegan Girl on YouTube, Facebook, Instagram, and Twitter for all things plant-based and pop culture.
Source: latestvegannews
New Vegan Queso Is Going to Blow the World Away