Easy Tomato & Pasta Salad
Tomato season is officially on from where I stand. Using a mother lode of assorted cherry, zebra, and heirloom tomatoes, I made this quick, summer-tastic pasta salad for a picnic the other day. Whole-grain pasta, baby kale, basil, and the best tomatoes you can get your hands on get a generous drizzle of strong harissa dressing (garlic, harissa, nutritional yeast, etc.). This is exactly what you want to be making during peak tomato season, and you can whip up the dressing and slice the tomatoes as your pasta cooks.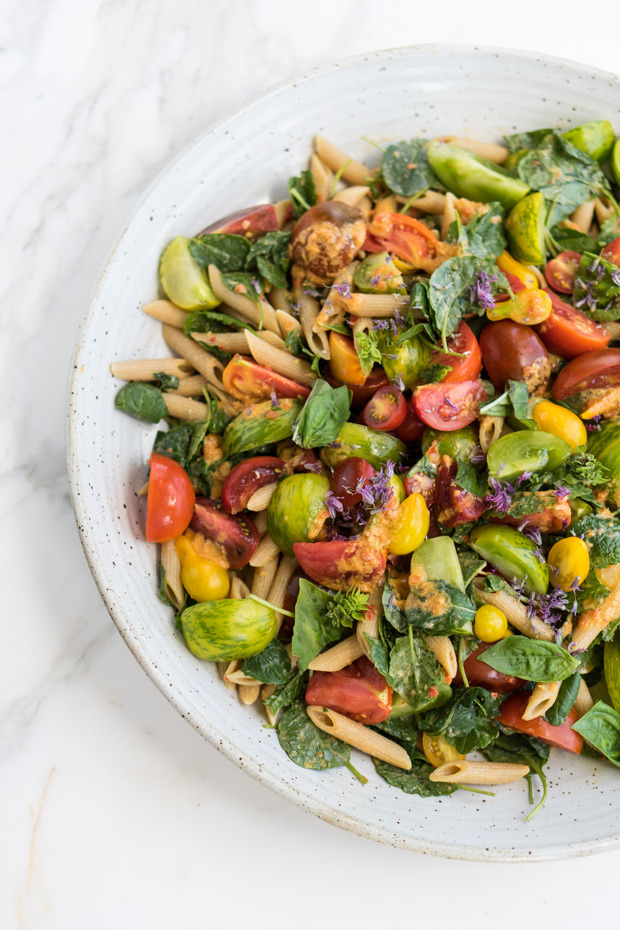 Beyond that, everything comes together in a flash, and good pasta salad is always a crowd pleaser. I've added some alternate suggestions below as well, building on the general concept. Enjoy!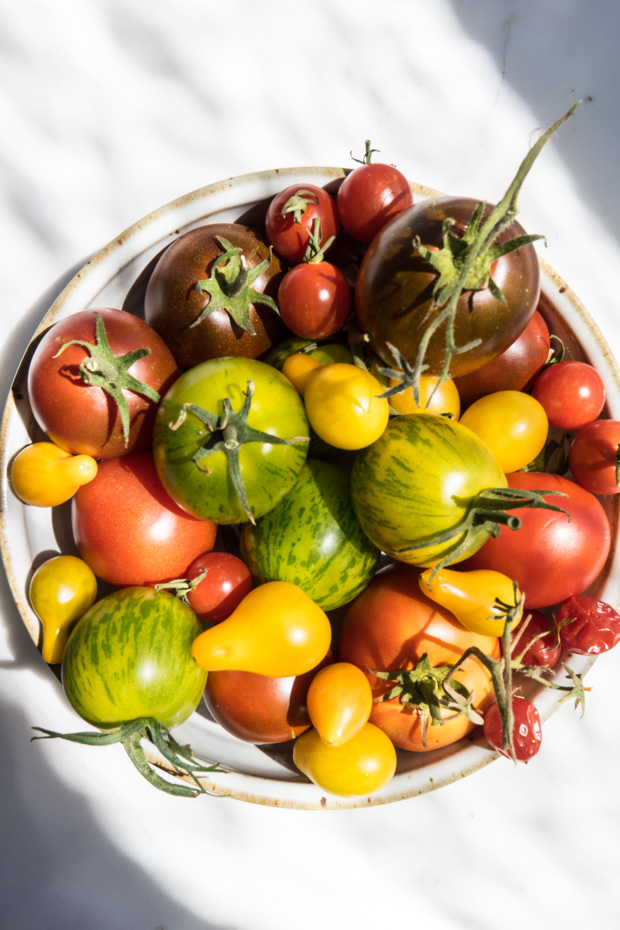 Variations & Add-ins
I've suggested some additional toppings in the recipe below:
Lentils: I was disappointed that I didn't have any black lentils cooked and on-hand, because I would have added those for the added substance and nutrition boost. If you have some, add them!
Olives: Olives were a great addition, and I enjoyed pasta salad leftovers with a bit of slivered makrut lime leaves tossed in (so good!).
Almonds: Whole toasted almonds – yes for the crunch, and everything else that makes almonds delicious.
Flowers: Added a bit of pretty with some dried herb flowers.

You don't really need any of these, the whole thing is good without (especially if your tomatoes are on point), I guess what I'm encouraging is a bit of latitude when it comes to add-ins and flare. You could even make a nice, clear, garlic broth, and pour it over a bowl of leftovers for a beautiful soup.
Continue reading Easy Tomato & Pasta Salad on 101 Cookbooks
Source: FS – Vegetarian 4
Easy Tomato & Pasta Salad