Daiya Rolls Out New Cheddar and Bac'n Cheezy Mac and a Bunch of Other Goodies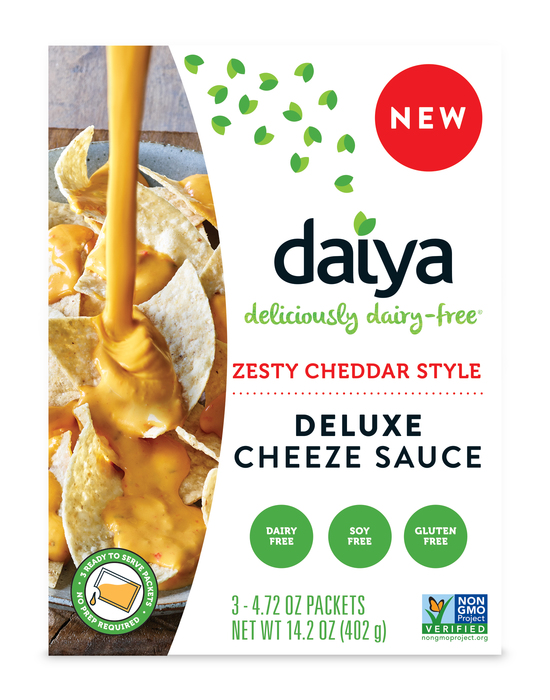 Daiya has long dominated when it comes to vegan cheese, and the company continues to roll out new products.
One of the latest additions to its lineup is a mouthwatering Cheddar & Bac'n Cheezy Mac.
The creamy, plant-based comfort food joins several other varieties of mac 'n cheese by Daiya — but it's the first to feature "meat."
In addition to the bacon-flavored deliciousness, the company has also rolled out:
Deluxe Cheeze Sticks — Plant-based Cheeze Sticks available in Cheddar Style and Mozzarella Style.
Mozzerella Style and Gouda Style Slices — New slices joining the current lineup of American, Cheddar, Swiss and Provolone.
Four Cheeze with Herbs Mac — Another new flavors of the quintessential comfort food.
Hon'y Mustard and Creamy Italian Dairy-Free Dressings — New salad dressings joining the current cast of Creamy Caesar, Homestyle Ranch, and Blue Cheeze.
Zesty Cheddar Deluxe Cheeze Sauce — Daiya's #1 customer-requested product in a new flavor: Zesty Cheddar. Can be used as a dip or used on nachos, macaroni, vegetables, and more.
The cheeze sticks are the first of their kind, and who wouldn't want to use that zesty cheeze sauce for vegan nachos? Win Daiya, WIN!
New yogurts, ice cream bars, and a "meat lover's" pizza were also recently introduced to the company's inventory.
All of these products are still trickling into stores, so if you don't see them at your favorite retailer yet — ask!
At this point, the company is covering all of the dairy-free bases. What's next? Plant-based jalapeno poppers (please)?
Follow Some Vegan Girl on YouTube, Facebook, Instagram, and Twitter for all things plant-based and pop culture.
Source: latestvegannews
Daiya Rolls Out New Cheddar and Bac'n Cheezy Mac and a Bunch of Other Goodies