25 Dinner Ideas For People Who Are Trying To Eat Less Meat
Put these in your dinner rotation.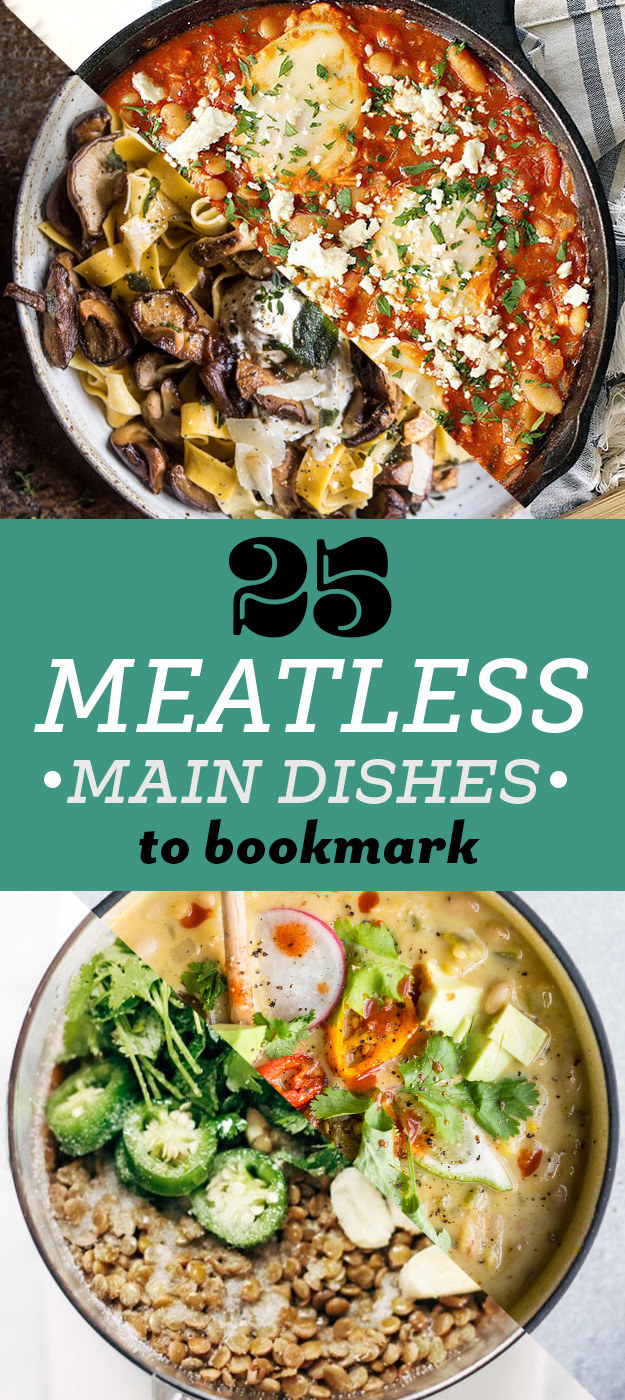 Katrin Davis/BuzzFeed
Mushroom and Spinach Lasagna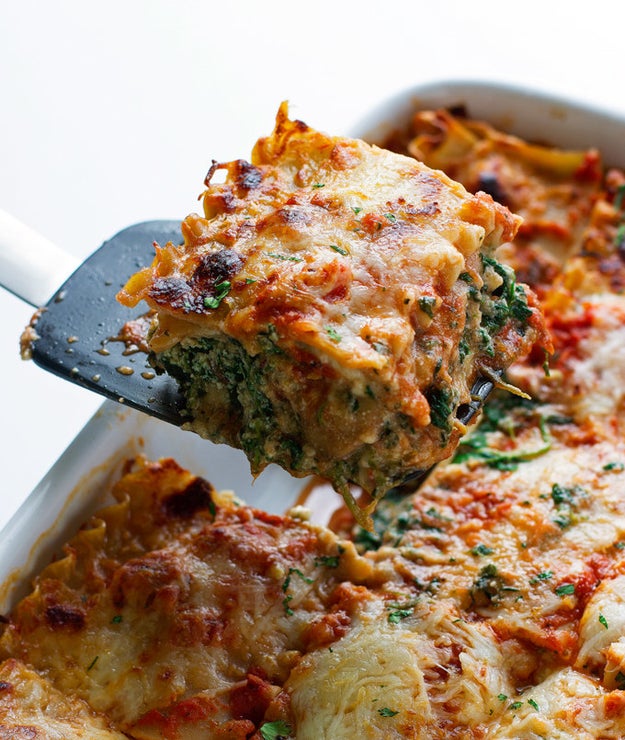 Layers of sautéed mushrooms, spinach, ricotta cheese, marinara sauce, and whole wheat lasagna noodles make this the ultimate comfort food. Get the recipe.
Little Spice Jar / Via littlespicejar.com
15-Minute Veggie Lo Mein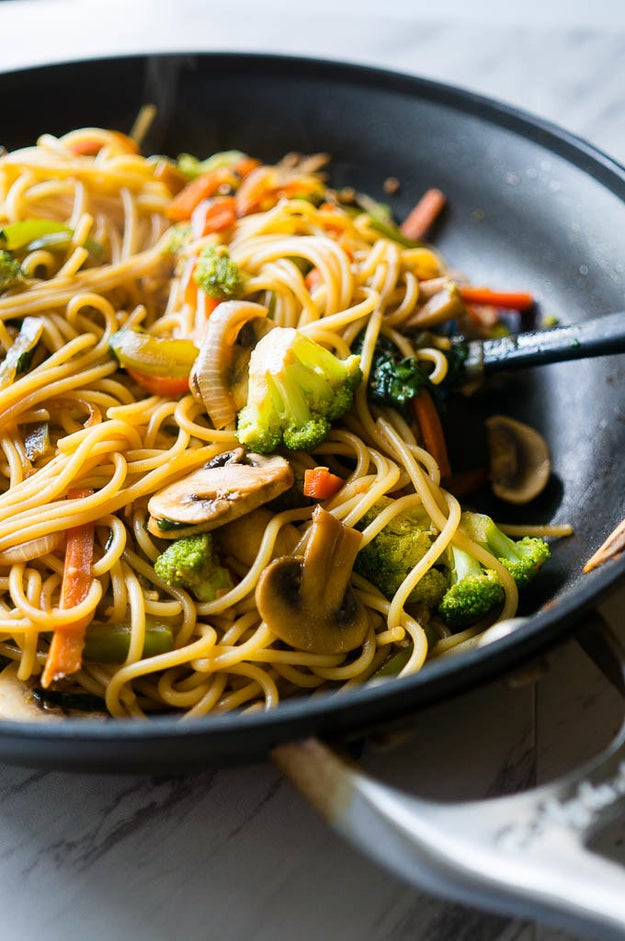 You could order take out…or you could whip up a big bowl of veggie lo mein just as quickly. Get the recipe.
Kitschen Cat / Via kitschencat.com
Baked Sweet and Sour Cauliflower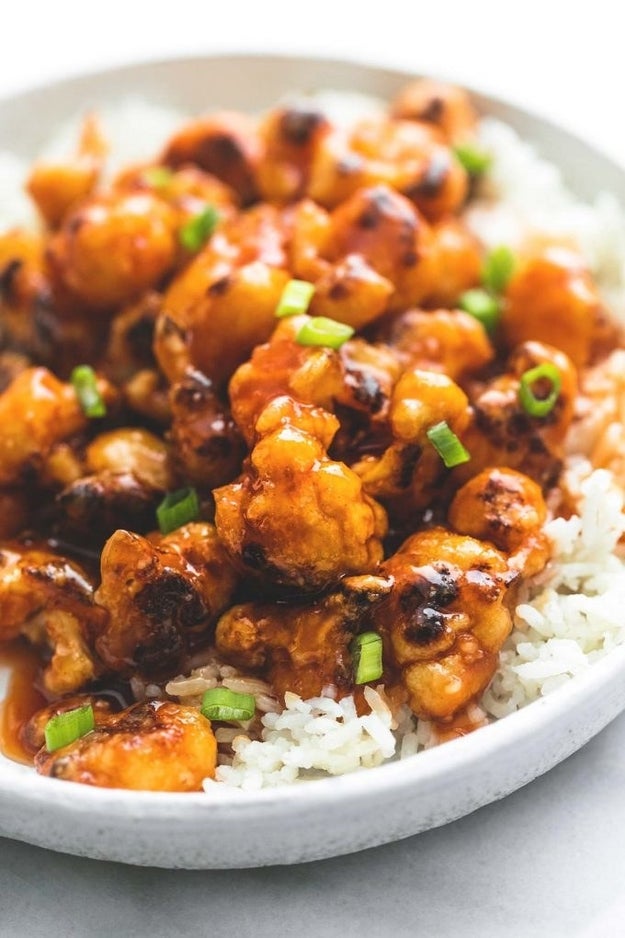 Nope, that's not chicken. It's cauliflower that's crispy on the outside and melt-in-your-mouth tender on the inside. Get the recipe.
Le Creme de la Crumb / Via lecremedelacrumb.com
Panko Crusted Zucchini Parmesan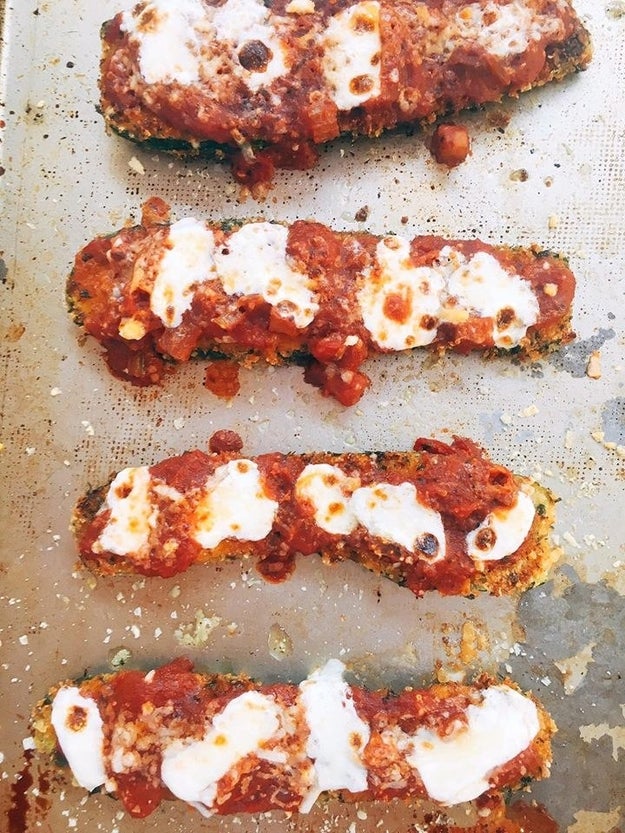 These breaded zucchini cutlets are baked with fontina, mozzarella, and Parmesan cheese, and they're bound to be a hit with the whole family. Get the recipe.
Three Olives Branch / Via threeolivesbranch.com
Buffalo Cauliflower Tacos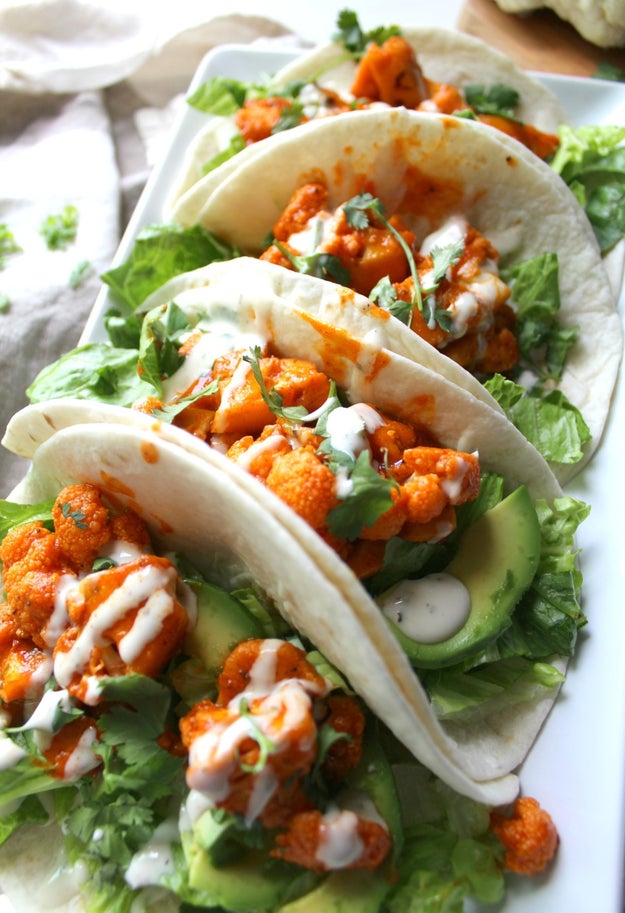 Top these spicy tacos with anything from sliced avocado and jalapeño to sour cream and salsa. Get the recipe.
This Savory Vegan / Via thissavoryvegan.com
Herb Buttered Wild Mushroom Tagliatelle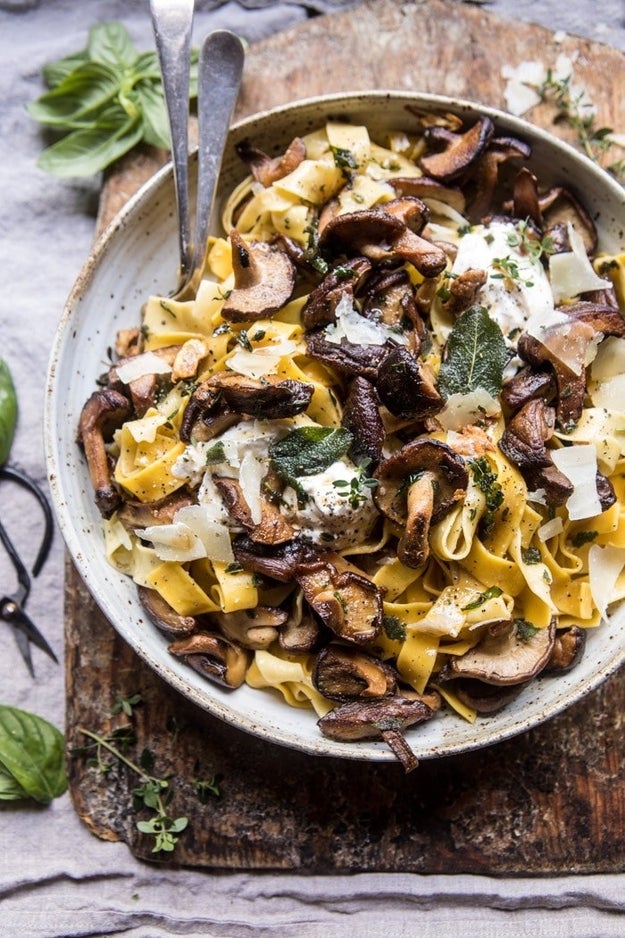 This rustic mushroom pasta gets its flavor from a sauce made of butter, white wine, lemon juice, sage, basil, and thyme. Get the recipe.
Half Baked Harvest / Via halfbakedharvest.com
Smoky White Bean Shakshuka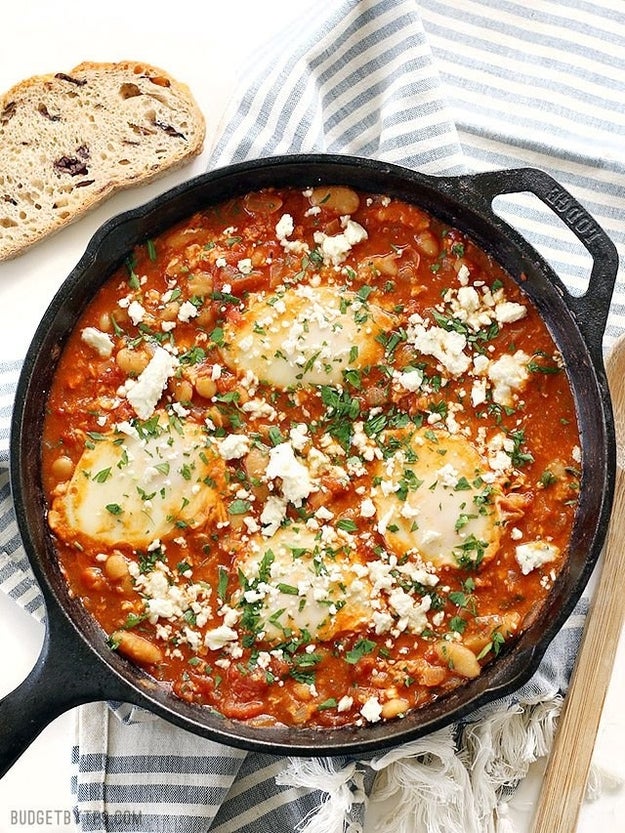 This hearty Israeli recipe featuring cannelloni beans, whole canned tomatoes, baked eggs, and lots of spices is not only delicious, but also super affordable. A serving will set you back just $1.62. Get the recipe.
Budget Bytes / Via budgetbytes.com
Lentil and Sweet Potato Shepherd's Pie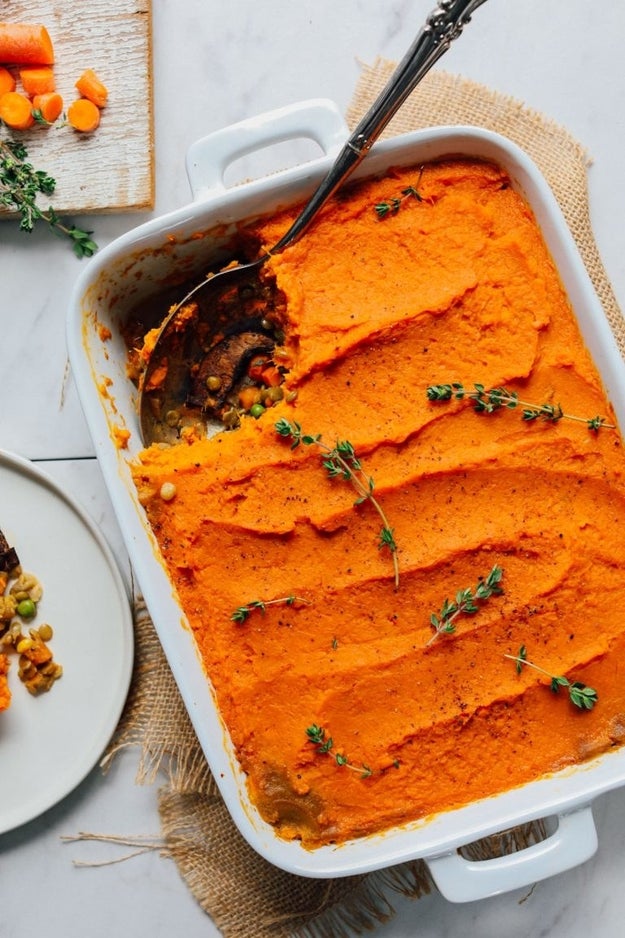 Underneath that mound of creamy mashed sweet potatoes you'll find a filling layer of warm lentils, portobello mushrooms, and mixed veggies. Get the recipe.
Minimalist Baker / Via minimalistbaker.com
Spicy Vegetarian Ramen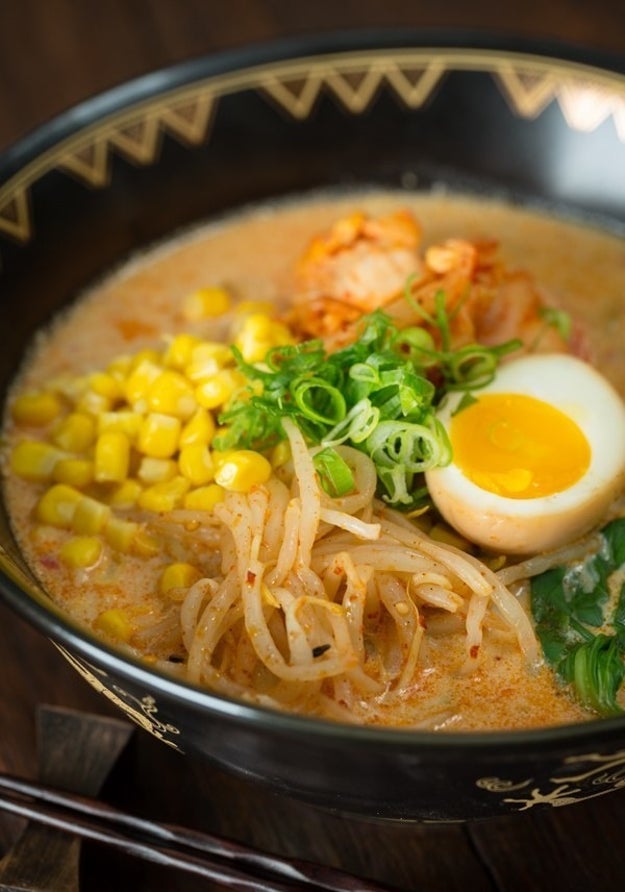 This savory broth is incredibly creamy without the help of any meat thanks to soy milk, dashi, soy sauce, and miso. You can get creative with your favorite ramen additions like soft boiled egg, kimchi, and bok choy. Get the recipe.
Just One Cookbook / Via justonecookbook.com
Hummus Flatbread With Sun-Dried Tomato and Pesto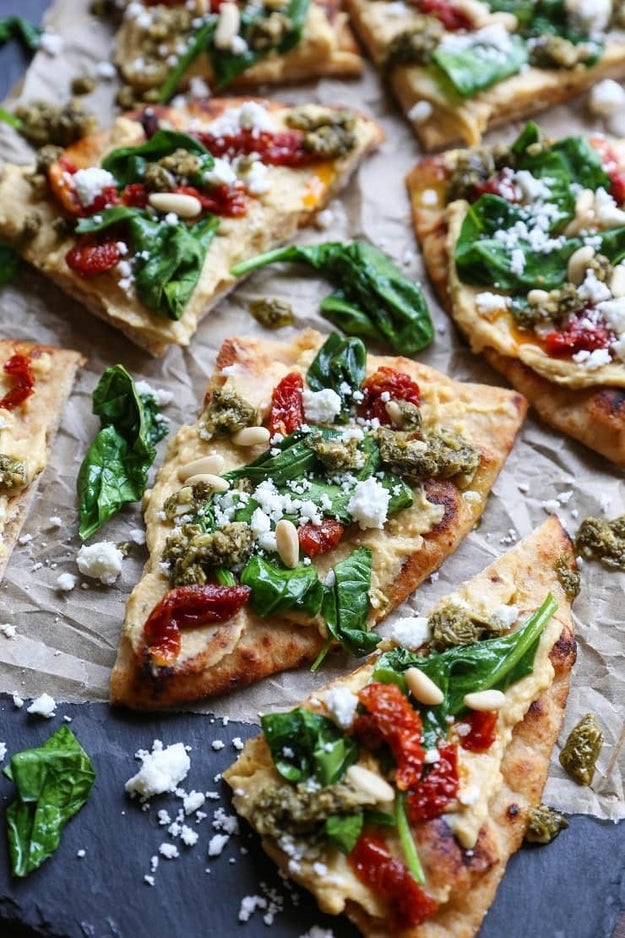 Flatbread gets a Mediterranean twist thanks to hummus (homemade or store-bought), spinach, sun-dried tomato, pine nuts, and pesto. Don't forget a sprinkle of feta cheese for good measure. Get the recipe.
The Roasted Root / Via theroastedroot.net
Source: buzzfeed
25 Dinner Ideas For People Who Are Trying To Eat Less Meat